The Pitchfork Staff
2017/18
Editors:
Shannimarie De La Cruz:
Hi!  I'm Shanni De La Cruz, and I'm a senior here at Tustin High.  Having been in Journalism since its first year, I've served as Editor-In-Chief, Fiction Editor, Staff Editor, and Staff Writer throughout my four years here.  Writing is my passion. In fact, I've written about five (unpublished) books to date. I spend my free time working on my stories, helping others with theirs, reading, playing tennis, and making friends.Hi!  I'm Shanni De La Cruz, and I'm a senior here at Tustin High.  Having been in Journalism since its first year, I've served as Editor-In-Chief, Fiction Editor, Staff Editor, and Staff Writer throughout my four years here.  Writing is my passion. In fact, I've written about five (unpublished) books to date. I spend my free time working on my stories, helping others with theirs, reading, playing tennis, and making friends. Journalism has helped my find my passion.  After pursuing higher education, I want to go into the publishing field.  I hope to do the same thing I do in Journalism every day—help aspiring authors to make their books the best they can be.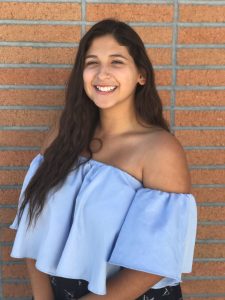 Eileen Obregon:
My name is Eileen Obregon and I am a senior, class of 2018. I love to sing, dance, act, and write poetry. This will be my second year in journalism and I am excited to see our class new and improved. Besides my involvement in journalism, I am in Advanced Theatre Arts, dance studio classes, and I manage to find time to work, to save up for college. I hope to go to my dream school, UCLA but, of course, any college is a dream come true since I will be the very first in my family going to college. To find some downtime, to relax, I listen to music and watch many different television shows such as, The Walking Dead, Stranger Things, Friends, Riverdale, American Horror Story, and Jane The Virgin.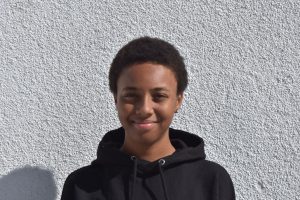 Liah Young:
My name is Liah Elizabeth Young and my favorite color is red. I am a 12th grade student at Tustin High School. I'd like to study in the forensic field and take it into a career. I loved when I was taking the class of Human Anatomy. We learned about our physical bodies and what happens inside of them. I want it to carry over into my studies and become a crime scene investigator or I want to be the one to give an autopsy. I like this career because I want to know all the different ways people can die from natural causes. I'm joining the U.S. Army so that is going to help me so much because my job will be dealing with mortuary affairs and as outrageous as that sounds it actually intrigues my interest.
My life is a book but I never want to publish it. When I go from being the beautiful, blossomed rose to a shriveled and lifeless little flower that has a strong stem but the petals become heavy and I begin to droop my head. I've been through my fair share as a young one growing up. I can't understand why I go through so much when all I do is give back. I never ask for much, but life just seems to work in mysterious ways. I have been mistaken for my age to range from 18-21 because I act so grown up and mature for my age. It makes me think that many people don't know me because they don't even know my age, but I ask myself everyday, is that my fault?
Jacob Rivas:
Zachary Apperson:
My name's Zachary Apperson and I'm a senior here at Tustin High. I'm an editor for the journalism program and have been involved with the program since joining freshman year. The program had been reintroduced that year, following an absence of eight years prior. Through the program, I've managed to create a children's book complete with illustrations along with the hopes of publishing it in the near future. I've also swam and played water polo here for four years. I've enjoyed my time at Tustin High and although it's sad to see it come to an end, I appreciate the opportunities and abilities I've acquired along the way.
Galilea Oregon:
Hi! I'm Galilea Oregon, I'm a junior, and this will be my third year in Tustin High's journalism program and my second year as an editor for The Pitchfork. I joined journalism because I believed that the most inspiring and underrated voice is that of the youth, and what better way to represent the voices of the unheard than by joining journalism? I enjoy writing about my friends, music, and fashion, and I occasionally dabble into fiction. My favorite artists are Tyler the Creator, Noname, junkie, and Cuco. Outside of school, I enjoy drawing and painting as well as writing short stories and taking pictures of my friends. I love writing about existentialist concepts and how humans perceive the world. I hope to one day compact all my writings into a book of essays and poetry but for right now, this program is my outlet, and I hope my readers feel right at home when reading my articles. This year, my goals is to write as much as possible and expand the minds and soften the hearts of people.
Gigi Hume:
Hey, I'm Gigi Hume! Currently, I'm in my junior year, in my second year as an editor for iThsMedia and in my third year of Journalism overall here at Tustin High. I love to write about topical matters pertaining to both the real world and the Tustin High population like intersectional feminism, politics, and the occasional sporting event. I initially joined the Journalism program after hearing Mrs. Robinson speak about it at my middle school at the tail-end of my eighth grade year. I was so inspired by her passion and sheer excitement that I knew I wanted to be a part of her mission to create an environment where kids can cultivate their passions. In my free time, I like to read, sleep (which is really fun when you're taking 3 AP classes), and explore hole-in-the-wall restaurants and stores. One day I hope to intern for a magazine or do a job where I can travel the world while still tapping into my creative side. Right now, I'm so glad that this program is that job where I can cultivate my individuality and I'm so excited for the year of new articles, videos, and innovation to come.
Chloe Maddox:
Hey there! My name is Chloe and I'm a tenth grader at Tustin High. I was born and raised in Orange, California where it's sunny practically everyday, which is unfortunate for people like myself who absolutely love the rain. I live with my mom and dad and I'm the oldest of three girls. Which may be part of the reason why I'm so bossy. I received the first nine years of my education at OCEAA, an arts school in Santa Ana and I'm furthering it at Tustin High. The three things I love most in life are photography, food, and my friends. If I'm not taking pictures, eating, hanging out with my friends, or all at the same time, I'm probably sleeping or procrastinating. That's just what I do best.
Growing up I was fortunate to have parents who immersed me in the arts. Whether it was going to a museum, taking dance, music or drawing lessons, buying me books or taking me to see Alvin Ailey perform, they have always implemented art into my life. I think that since art had a huge impact in my founding years that it's really influenced me as a young adult and helped me express myself in many ways as well as given me the ability to see the world in a different way than others. This is part of the reason I joined journalism. Not only is journalism a different form of expression, but it also a creative outlet that can be used to inform others about events and subjects that I care about.
Alec Nunez:
My name is Alec, and this is my first year in journalism. I joined journalism to continue practicing my writing skills, as I have a strong passion for creative writing. I am a sophomore and want to pursue a career in psychology. I was born in Pasadena to a single mother, along with an older brother and sister. I am currently 15 years old, going on 16 in December. I view myself often as being a hard-working and dedicated person. My family is very diverse in terms of their career fields. My sister is in the Air Force, my brother is training to become a firefighter, and my mother is an elementary teacher. Outside of writing and psychology, I have an interest in music. I have many ambitions in life as I don't believe in limiting yourself to one field of work for the rest of your life. I think if someone has an interest and can see themselves doing it, then they should. I look forward to collaborating with my fellow journalists and making this year a great one.
Staff Writers: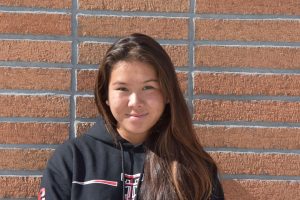 Kristina Ching:
My name is Kristina Ching, I am a senior, and this is my fourth year in the Journalism program at Tustin. I also play soccer and am involved in Model United Nations. After graduation, I plan to attend a four-year university (hopefully out of state) and major in journalism or communications. In my free time, I love to spend time with my friends, try out new food, go to the beach, read, go to concerts, and listen to local live music. For me, journalism has allowed me an outlet to be more creative and attempt to reach my full potential. I've been inspired to cover stories I wouldn't have written about otherwise, and create projects that I'm genuinely passionate about.
Camille Yost:
My name is Camille Yost and I am a senior at Tustin High School. This is my second year in journalism. During my junior year, I joined the program because I had a passion for writing whether it was for my personal journal or for my English class. Because I had heard so many positive things about the program and Mrs. Robinson, I had to join. What I love most about the journalism program at Tustin High is that we are encouraged to be creative. So far in journalism, I have written school related articles, pop-culture, and short fiction stories. Another thing I love about the journalism program is that it's student run as if we were a company.
Outside of the journalism program, I am active in my community. I participate in a community service group called Tustin Teens in Action and I was involved with the Counselor in Training Program at Columbus Tustin over the summer. In addition, I am in the TIDES club at Tustin High which is dedicated to cleaning the beaches of Southern California. After graduating from Tustin High, I plan to major in accounting and become a CPA. I would like to write as a side career and either double major or minor in journalism.
Golda Fulmer:
Hello, I'm Golda Fulmer. I'm a senior at Tustin High school and this is my third year of having the privilege of being in Tustin High School's Journalism program. Not only am I involved in Journalism at Tustin High, but I'm on the Tustin High School Dance Team, which I've been a part of for all four years of high school, on the leadership team for my school's Fellowship of Christian Athletes Club, and an Honors and AP student. This year, I've also been blessed with being a part of AP Studio Art at Tustin High. All these programs are extremely time-consuming and require a LOT of work in order to be successful. Though these classes and programs alone can be at times over-whelming, these aren't the only things I'm involved with.
Along with being extremely involved at my school, I'm a member of the Ryman Arts Program which is a college-level art course for high school students. I take these three and a half hour classes at Cal State Fullerton on Saturday afternoons. If all this wasn't enough to completely drain a person, I'm equally involved at my church. For me, my church is a home-away-from-home. Though all these programs keep me beyond busy, I wouldn't change any of these for the world. I am beyond blessed to be able to do all these things that I love.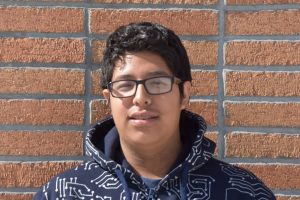 Antonio Nuñez:
My name is Antonio Nuñez, I am 16 years old and I am currently a senior at Tustin High School. I enjoy watching and playing soccer, I am also a diehard Chivas and Real Madrid fan.
I was born in Santa Ana, California but I have spent the majority of my life living in the beautiful city of Tustin. I am also proud to be the son of 2 hard working, Mexican parents.
Victoria De la Vega:
Hello! My name is Tori De la Vega. I am a senior I am triathlete of our school's varsity volleyball, basketball, and the track team. I am the second eldest in my family of 4. Other than playing sports my likes include hanging out with family and friends, going on runs, and going on adventures with my brother. Other than the occasional hiccups I have consistently maintained a 4.0 GPA throughout my high school career. My favorite class is English because I love how there is never a right or wrong answer and everything is always up for interpretation.I plan to apply to Washington State University, UC Santa Barbara, and University of Colorado to study sports medicine.
As a senior and thus being my last year my goals for this school year include being involved in as many school events as possible, work with a purpose in all the activities that I do/attend, and lastly to make sure I stay positive throughout every situation that I come across. I believe that if I achieve these goals then my senior year will be the best year yet!
Jair Martinez:
I was born in Guadalajara, Mexico in the state of Jalisco and moved to the United States when I was 5 years old. I lived in Costa Mesa, California for about seven years until I moved to Henderson, Nevada but only lived their for about a year and a half. After that I moved here to Tustin at the age of 13, and well here I am, although I do hope to move up northern California to study film next year.
Although I'm still working to better my writing, I developed a passion for it at a young age. It was around 3rd grade when I started speaking and writing English well, and that's when I knew this would be something I would enjoy doing. I was never good at math, but when it was time to write, it was my time to shine. I even wrote and presented a speech at my 6th grade promotion at Costa Mesa Elementary School. So, when I found out about this journalism program I joined it, and I am glad I did.
Vanessa Soria:
My name is Vanessa Soria I'm 17 years old & I am currently a senior here at THS. I've been attending Tustin for 2 years. I consider myself a hardworking and self-motivated person. I am currently involved in an ROP class that is for a Medical Assistant that will help me pursue a career after high school and throughout college. I currently live with my parents & my older sister in Santa Ana. I tend to put other people's feelings before mine but that's how I am.
I enjoy keeping myself busy, and go on long runs with my dog. I have been working at the Discovery Cube of Orange for over a year, where I am getting engaged with guests and the exhibits there. I enjoy helping out the community.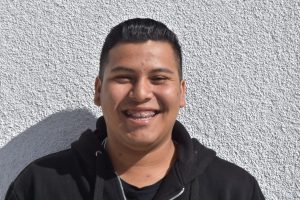 Andres Segura:
I was born into a family with 2 older siblings, sister, age 25, brother, age 28, and younger brother, age 15. My older siblings are also part of the Tiller Family and me and my younger brother were part of the Tiller Family ever since my older siblings were in high school. My favorite things to do on my free time is play my instruments, either my guitars, ukulele, or the piano. I love to listen to different genres of music and I like to play the different genres of music on my instruments. I love to play video games especially FIFA or fps games it doesn't matter if I'm playing Xbox or Playstation as long as I get my gaming on.
This is my first year in journalism I was introduced to journalism by Eileen Obregon she came to me because she knew that I love to write lyrics for songs so I'm pretty sure she thought to herself that I may enjoy journalism since I love to write lyrics and get creative. I really enjoy journalism so far and I can't wait to see what more there is to write about.
Anthony Zuniga:
My name is Anthony Zuniga. I'm 17 and I'm a senior at Tustin high. I've been at this school since 2014 and I didn't have the best start. I had moved to Tustin after I got kicked out of my house in Santa Ana which means I had no friends and was alone for a little while. Over time I met some really amazing people, and some people I hope to consider to be lifelong friends. I like meeting new people and learning new things. I'm also very good at talking and getting along with people. I'm not afraid to do stupid things that nobody else would do; some of my friends even say I'm like a puppy because of my curiosity and energy. Usually, I spend my time free time practicing for Cross Country which I joined because of Ms. Robinson's encouragement. I also play Pokemon a lot and sleep when I get home. I don't consider myself as smart compared to the other kids, but I don't care. I like who I am and all my friends agree. I'm so excited for the year in Journalism to come. See ya soon!
Benjamin Rodriguez:
Hi, I'm Benjamin Rodriguez, i'm a junior in my third year of journalism, and my second year of being the main sports writer in the program. I joined the journalism program because my love and knowledge for sports inspired me to write about them. My favorite writing topics are school and professional sports like football, baseball, and basketball. Outside of school I enjoy attending sporting events and hanging with my friends. I hope to one day be a football analyst on NFL Network or ESPN. I like to listen to all types of music from Morrissey to The Killers and all types of hip hop.
Eean Garcia:
Hello my name is Eean Anthony Garcia, I'm a junior and this is my first year in journalism. Besides journalism I am involved in Tustin High School's Model United Nations program, volleyball, and I coach youth football with my dad after school. Outside of school I spend my time drawing and painting for my family and friends. I lived in Las Vegas for a little over a year which makes me appreciate being in Southern California more. I enjoy spending time at the beach and being outdoors with my friends every chance i can get. I love to pass time by discovering new music and by shopping for new clothes.
Isaac Michel:
My name is Isaac Michel, a junior here at Tustin High. When there is no more homework to do, I draw original characters and, rarely, write stories about these characters. I play with my three dogs ,Toby, Hurley, and Susey, whenever I don't feel like writing or drawing. However, when I don't feel like doing either of those activities, I simply walk around outside, looking for any small animal I can catch, observe, and release. This all leads to my most favorite thing on this planet: life. Nothing captivates me more than learning about animals and plants and how they work. I incorporate my passion of life into my stories and drawings and I interact with life as much as I can. This pretty much explains the tranquil mood I'm in the majority of the time.
Yaire Alfaro:
Hi my name is Yaire Alfaro. I'm a junior, and I have been in journalism for all my three years of high school. I hope to continue to be in journalism for my senior year. I write mostly fiction stories and poems. Journalism has helped me express my feelings. I learned i had a passion for writing in the 7th grade in my english class.
I spend most of my free time with my family. I have two brothers and five sisters. I want to be a forensic scientist when I grow up. I love the outdoors and trying new things. I listen to pop music. I go to church every Thursday and Sunday.
Frank Remele:
Hi, I'm Frank Remele and I am currently a junior at Tustin High School. I'm an avid reader of academic disciplines, particularly the humanities and social science. I had become disenfranchised from the natural sciences for a few years now, because of my association of them with rote learning and memorization. But upon conceptualizing science as a philosophical process to better structuralize our universe, I redeveloped my affinity for the hard sciences (physics, biology, chemistry). Perhaps the field I'm most inclined to envelop myself in is political philosophy. In my free time, I avidly browse online forums on Track and Field in conjunction with my academic interests. I view it as the "purest" sport- marks recorded are objective, definitive measures that are easily quantifiable.
Erick Martinez: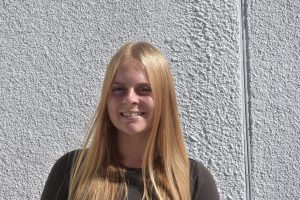 Chaise Howard:
My name is Chaise Howard I'm a sophomore at Tustin high. I love to write, so I really enjoy being in journalism. Its really fun and lets me show my creativity by writing articles on things I like and short stories. When I'm not writing though I'm at water polo practice, or hanging out with my friends.
Andrew De Haro:
I am Andrew De Haro, a 14 year old going through whatever comes at me. I'm a person who likes all sorts of things. I play games here and there and I post memes and other things on social media. I'm a huge computer nerd and I watch shows like Naruto and whatever comes on TV. I listen to music that comes on the radio and I am one of those dudes that don't care what other people say.
I like to post memes that have to do with world events. When I watch Naruto I binge watch until I pass out: for example, I'll watch 15 episodes a day or finish a season in a day.  I don't like are when people talk behind one of my friends or when they spread rumors. I'm known as the edgy kid on Instagram.