By Galilea Oregon
Photos by Benjamin Rodriguez
Following a second victory against Laguna Beach High School last Friday, Tustin High School's Girls' lacrosse played this past Tuesday against Long Beach Polytechnic High School in hopes for redemption after losing to them earlier this season. Tuesday was also Senior Night in which the Tillers bid adieu to seniors co-captain Citlalli Mora (#15) and defender Melody Velasco (#14). After playing for three years, Mora and Velasco had become key players to the team, and will be dearly missed next season.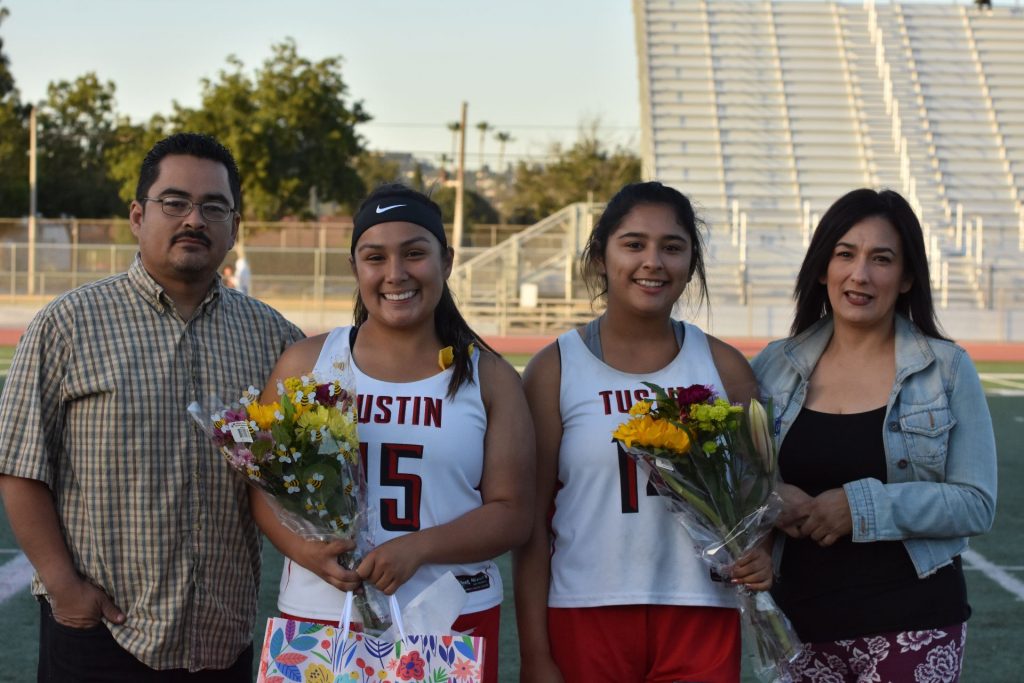 The game began with Citlaly Rodriguez (#3) at the draw. As the ball went into the air, Long Beach Poly was quick in taking possession, yet after an illegal check against Andrea Moreno (#10), the ball was now Tustin's. With Andrea Palma (#7) running back down the opposite side of the field toward Long Beach Poly's goal, it seemed as if Tustin was ready to make its first goal, but a double team by Long Beach Poly's defense proved otherwise: making it impossible for Palma (#7) to make it down the 8 meter arc alone. After multiple passes between Palma (#7), Mora (#15), Samantha Hernandez (#4), and Lisbeth Cabrera (#9), the ball was finally moving down the field, even though many of the attacker's drives were not enough to get a shot off. Then from Hernandez (#4) the ball went to Rodriguez (#3). But not even her impressive speed could get her past the 8 meter arc. Constant pressure by Long Beach Poly's defenders proved to be a major issue for Tustin throughout the game. Although she struggled, Rodriguez (#3) got a penalty shot after being pushed down by a defender. But her shot was blocked by Long Beach Poly's experienced goalie, and #11 was ready to take the rebound. Her speed was unmatched by Tustin's midfielders, and the defenders were preparing for the crash as she made her way. Luckily, #11's anticipated shot was a miss, yet #23 was there for the rebound, catching Tustin off guard, scoring Long Beach Poly's first goal after an anxiety inducing ten minutes.
Cabrera (#9) took the second draw, and Rodriguez (#3) immediately caught the ball in midair, but was stopped by #11 who snatched the ball right out of her stick, running to Tustin's goal. Tustin's defense was, again, no match against her speed, and she scored a second goal for Long Beach Poly, only a minute after the first one. But Tustin was back in action, with Daphne Tautuaa (#11) taking ball possession at the draw and Mora (#15) taking the chase after a missed shot, the play was set, allowing Hernandez (#4) to make Tustin's first goal. But the Jackrabbits were relentless. At the draw #11 yet again took the ball, running to make what could be a third goal. But goalie Andrea Rojas successfully blocked the shot, and for a moment everything was under control until #4 scored a third goal for Long Beach Poly. And then again, Long Beach Poly's #11 scored a fourth goal right off the draw.
Rodriguez (#3), once again at the draw found herself cut short by #11, who, as expected, made it past Tustin's defense, but missed her shot. #23, yet again there for the rebound, pushes Tautuaa (#11) down, switching ball possession to Tustin. From Tautuaa (#11) to Hernandez (#4), the ball was moved all the way to the Jackrabbits' goal, inches away from scoring. Rodriguez (#3) did not give up, making a shot off the rebound, but also ultimately missing, only for the ball to be back with Long Beach Poly's #23, and then with a pass to #4, Long Beach Poly scored a fifth goal, with twelve seconds left to the half, ending the the first half with Long Beach Poly in the lead 5 to 1.
Second half begun with Tautuaa (#11) on draw. Immediately, #11 took the ball yet again, but this time, Tustin's defenders were more prepared, double teaming her as they knew she was easily Long Beach Poly's strongest player. An unexpected pass from #11 to #25 made Long Beach Poly's sixth goal of the game. Then again #25 charged through the defense after the draw, knocking over Cabrera (#9) and Velasco (#14), making a seventh goal. After Long Beach Poly's seventh goal, it was clear that both teams were struggling for ball possession; players were falling, being pushed around, and stumbling at the ground balls. But when #23 was given a yellow card, Tustin took the upper hand, capitalizing off of the man down, enabling Hernandez to score a second goal for Tustin. But Long Beach Poly was quick to retaliate, and #11, as expected, scooped up a ground ball and took a shot at goal, which was once again miraculously blocked by Tustin's keep. Hernandez (#4) took on the rebound, and ran down the field while being triple teamed. A pass to Genessis Villapondo (#18), allowed for Rodriguez (#3) to take the rebound, and this time, by shooting at the keeps feet, was finally able to score a third and final goal for Tustin.  
After a frantic draw in which the Tillers tried to pull themselves together and make attempts at a fourth goal, Long Beach Poly's #32 received a pass from #23, and scored an eighth goal. With three minutes left to the end of the game, Rodriguez (#3) took the ball at the draw, and sprinted to Long Beach Poly's undefended goal, and made a shot that went over the goal. #11 took the chase and made it all the way back to the other end of the field and was held up by Tustin's defense for the last 20 seconds. Long Beach Poly was the obvious winner of Tuesday's game with 8 goals to 3 against Tustin.
Although the Tillers lost to the Jackrabbits for a second time, they were in higher spirits and were truly communicating out on the field, and as the coaches explained, "Long Beach capitalized off our mistakes and used them for their advantage." According to Head Coach Max Maldonado however, next season is looking bright, now that, "[the girls] have learned to trust each other, if they trust each other, look up and pass, the team will grow and blossom more than they have this year."