By Ivette Barajas and Anthony Zuniga
18 years ago today, as most Americans were waking up and following their usual routine for school or work, Dylan Klebold and Eric Harris were preparing for what would come to be known as the worst school shooting in history, and the first of their time.
On April 20, 1999, these two teens went into Columbine High School armed to the tip and killed 12 fellow students and one teacher. Among these casualties, another 24 were injured and both perpetrators committed suicide at the end of their malicious spree.
Though there have been bigger, more fatal shootings since the Columbine massacre, this one served as a catalyst for future school shootings. After Columbine, there have been 50 school shootings and 141 fatalities from these mass murders or attempted mass murders. When Columbine happened, Americans and all people were shook to the core. Around 1999, we seldom saw tragedies like these happening, especially not ones constructed by teenagers.
Today, we remember those lost on April 20: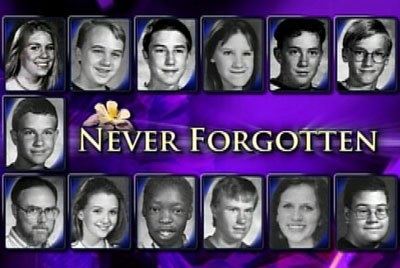 Rachel Scott, 17

Daniel Rohrbough, 15

Dave Sanders, 47

Kyle Velasquez, 16

Steven Curnow, 14

Cassie Bernall, 17

Isaiah Shoels, 18

Matthew Kechter, 16

Lauren Townsend, 18

John Tomlin, 16

Kelly Fleming, 16

Daniel Mauser, 15

Corey Depooter, 17
The perpetrators were Eric Harris, 18, and Dylan Klebold, 17.