By Karimar Gatica
Does picking out movies to watch on Netflix overwhelm you? Perhaps reading the reviews and ratings is not exactly the right thing to do when choosing a movie, as every movie should be given a chance whatever the rating.Sometimes the ratings are accurate though, and afterwards you either sit there wondering why you didn't watch it sooner or why you even watched the movie. Below are movies that I personally think are great without pointing a finger to its rates.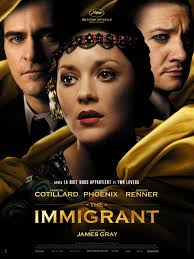 Taking place in 1921, Magda and her sister, Ewa Cybulska, sail to New York from their homeland in Poland. Once they have reached Ellis Island; an island that deals with incoming in New York, doctors come to find Magda ill. The two sisters are then separated. Magda gets released and isolated onto the harsh streets of Manhattan to contain her from getting the contagious disease that is being scattered. Being detached from her sibling, Magda has nowhere to go and finds herself involved with prostitution due to falling for a deceitful man named Bruno.

"Amanda Knox" a documentary released on February 21, 2011.It is a true-crime documentary about Amanda Knox, a regular woman attending language classes at a university for foreigners. Amanda shares a flat cottage with a British girl and two Italian girls. Meredith, Filomena, and Laura. Knox eventually meets Raffaele, an Italian student who she falls for and ends up dating. When Meredith is discovered punctured to death in her bedroom, police come to question Amanda and her boyfriend, Raffaele. The Coroner then explains to the thief that this was a perfect crime for two people to commit, and then the plot unfolds.Throughout the movie there are plot twists that will send chills down your spine while you also question what is real and what is fake.
A documentary released on January 22, 2015, in which Nina Simone's life happens right before our eyes. Starting from Nina going through day-to-day struggles involving the civil rights movement in the 1960's to  becoming a legend known worldwide.A woman who has worked hard enough to have been labeled " High Priestess of Soul". This film allows you to feel what poor Nina had to put up with to reach her life of stardom of fame. You will laugh, you will cry, but in the end you will ultimately feel good.. This is a documentary that not just lets you observe  success, but one that might also motivate you in becoming successful.
Fruitvale Station is a biographical drama film. Fruitvale Station displays a 22-year-old's last day breathing alive before being killed at the Fruitvale Bart Station. Just a regular day going from claiming wrong from right with his girlfriend to having corpses left in a station. As the day goes on  there are miscommunication within Grant's girl and a Bart police officer taking command from what his boss orders. Grant was a teenager making good decisions, therefore when the media says otherwise things tend to get berserk. Grant's death causes protesters ranting throughout the harsh streets. Officers who shot Grant are in great danger of being fired whilst being criticized by the powerful words of these protesters. This suspenseful plot seemed intense and I felt the pressure put into behind how much meaning protesters put into having justice for Grant's death.
These are films I decided to watch whether they had really low or high ratings because I felt the need to discover that out myself. Reviews for movies are not always accurate, they are completely biased and it is solely up to the viewer whether the movie is bad or not.