By Kimberly Ayon
Thriller rides: every adrenaline junkie's guilty pleasure. However, though rare, there could be technical difficulties in the works. As you get on a thriller coaster, one is taking the gamble of facing many risks. But once secured in the ride, the excitement kicks in. Many people look forward to sharing the thrill of the ride with their friends and family, now stress-free, and not caring about the messy-hair aftermath that serves as evidence of a truly thrilling ride. The one or two hour wait in ride lines is most always worth it in the end. In Six Flags, a major thrill capital in the nation, there are four roller coasters that people look forward going on. 
1: Tatsu (The Heart-Pounding Spiral)
If you love the rush of adrenaline, Tatsu is for you. This rollercoaster is known to be the tallest, longest, and fastest roller coaster in Six Flags.  This thriller coaster will show you what it's like to fly. Ascending 3,602 feet at many points in the ride, there are consistently winding tracking and steep 263 feet plunges. It's often times an unforgettable attraction, since it subjects people to some awesome g-force and a classic thriller for this park.  
2: Goliath (The Jaw-Dropping Thrill)
This attraction is arguably one of the best rides to have ever been built. It is known to be an extreme hyper coaster that features a height and drop over 200 feet. Once you're riding this big dipper, you will begin the 3-minute adventure. Goliath is also a Guinness world record holder for (10-3-16) the 7th tallest drop in the world. This ride is known to fly through a 120-foot underground tunnel, deep plunges and twisted curves. This is truly an exhilarating roller coaster for the books.
3: Drop of Doom (The Breath-Taking Drop)
As you get on this ride, you are going to notice a slight difference. Rather than riding curvy loops or chaotic plunges, you'll ascend a drop of 400 feet straight beneath you. As your feet are dangling down you will observe how enormous and beautiful the view is of the entire park. Afterwards, in the blink-of-an-eye, it's time to free fall. Furthermore, this extreme rush will make you feel weightless during the five-second freefall, making for one of the most unforgettable drop rides you'll ever encounter.
4: X2 (Spine-Chilling Twists)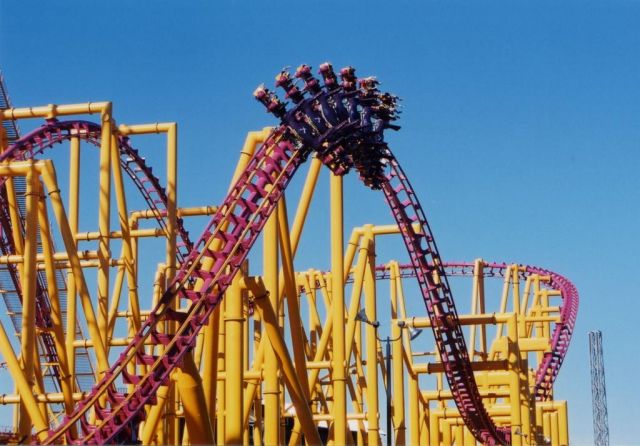 Get ready to enter the fifth dimension: a new way to fly with its 360- degree rotating seats. This ride is one of the most popular thrill rides in the park. As you start to go up, you'll find yourself at least be 200 feet in the air. Not only is the ride itself an amazing feat, but it's so wonderfully designed, featuring great light shows and an exciting atmosphere for the ride. This is an attraction you won't so easily forget.