By Karley Bailey and Nayeli Medina

Sutha Thai Kitchen
Items Ordered: Pad Thai with Chicken and Pad-woon-sen
Description: Asian type noodles, mixed with vegetables, and a hint of spice.
Tips: If you order the lunch special at this restaurant you will receive a cup of delicious dumpling soup, along with two tasty wontons that add the perfect crunch to your meal. You will also have your choice of white, brown, or fried rice. The lunch special choices consist of all of the most popular dinner items. This includes: Pad Thai, Chicken Curry, Pad-woon-sen, and many more. Each item on the lunch special menu has the low cost of 7.99.
Barolo Cafe
Items Ordered: Linguini-Cardinale and Farfalle al Pesto e Pollo
Description: Thick and savory, homemade Italian pastas
Tips: The portions are ginormous and can be quite pricey, so make sure to come during the lunch hour. Coming in during the lunch hour, you can not only avoid the dinner rush, but you'll also only have to pay ¾ of the regular price. Another tip is to not order a whole portion for yourself. Even if you split a portion, you are prone to still have leftovers of this amazing pasta. Each meal comes with a salad, as well as decadent cheese bread.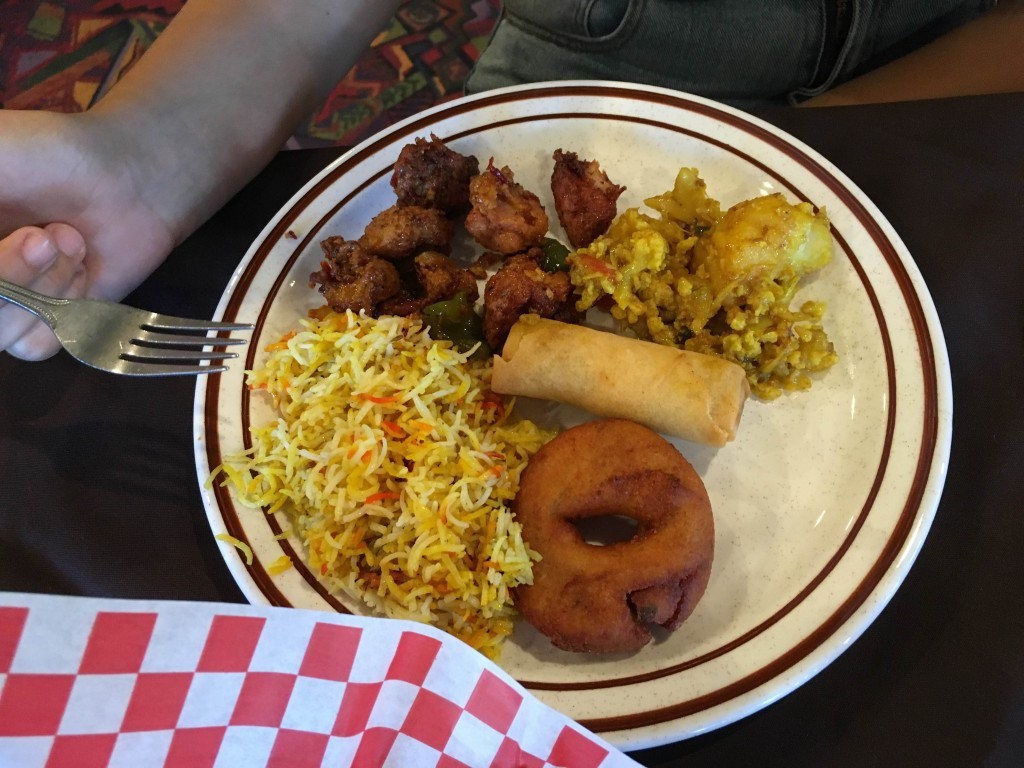 India Gate
Items Ordered: Miscellaneous
Description: A large variety of Indian style foods; including curry and Roti.
Tips: Try coming at opening time at 11:00 am. The restaurant tends to get packed around this time. Since it is buffet style we recommend you try as many different things as possible. Our favorite dishes were the veggie crispies and the mango pudding pictured above. As soon as you are seated, you are immediately served with naan bread and cups of water. Since it is a buffet, you decide when you want to serve yourself and how much. The dessert is properly separated and placed towards the end for your convenience. Indian food has a super unique taste that you can hardly find anywhere else, and India Gate really impressed us with its traditional food.
Peter's Gourmade Grill
Items ordered: Cheeseburgers and Fries
Description: Classic American comfort food
Tips: There are many options to your burger and every one has the choice of an egg for an additional dollar. Most of the menu ranges from $5-10 with the addition of $2 for fries. The fries are very unique: topped off with seasoned cajun giving it a one-of-a-kind taste. Although it looks small from the outside, it has much more space once you walk into the door. It is not a place you hear of very often, but when you do, you tend to hear really positive things about it. We were especially impressed with how kind and genuine the people working there were, and it just made the experience very enjoyable.
Ajisen Ramen
Items ordered: Original ramen
Description: Japanese dish
Tips: The place is located in Diamond Jamboree and is a little to the left of the Asian market. It offers a variety of dishes, although its main course continues to be ramen. There are multiple meats to choose from to be included into your ramen, and if meat isn't really your thing, tofu is a viable option. The ramen is typically around $8.45-10 depending on the specificity of the order and the drinks range from $3-4. The ramen looked bland since we did not ask for anything to really be added, however, the table contains a multitude of sauces that you could add to add a little more flavor and spice to your meal. It is not a place that is typically heard of, but it is definitely worth a try.