By: Karli Stichter
On May 17, Mr. Miller's AP Literature class embarked on a cultural experience. Throughout the year Miller read and taught various plays to his class, and decided it would be a great idea to bring his two classes to see an actual production. Before the event both classes learned about proper etiquette, and the strange but often humorous customs of theater. The evening of the play,a group of over fifty literature students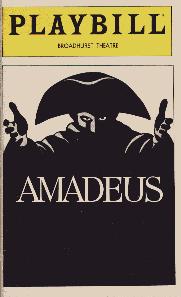 smooshed into cars and made their way to the South Coast Repertory to see "Amadeus."  The story line follows Wolfgang Amadeus Mozart and his rise to stardom, which eventually results in the evil Antonio Salieri, a peer composer, psychologically deconstructing Mozart.
Taking up several rows of seats, the classes engaged in laughter throughout the entirety of the play. A few salacious scenes and unexpected events made for some funny conversations during intermission and after the performance.
Our class has been talking about the play for the last week, and the great memories it provided for the end of senior year. A big thanks to Mr. Miller for presenting the idea of going to this play and inspiring his classes to continue reading and attending plays.