By Karley Bailey, Nayeli Medina, and James Smith
When California was discovered by Spanish Conquistadores in 1533, it was given the name Califia; a word which originates from a hopeless romantic writer of the name Montalvo. This was a word he used to represent a "mythical island paradise" in his novels. Geographically, California is not an island, but there is no question that it is a paradise. It is a paradise so euphorically divine that 33 million people have chosen to live in it. Although 33 million people occupy this land of "Califia," only a small amount of people have seen all of the many wonders and beauty that it has to offer. We all know the generic landmarks that California has to offer; the cinematic beaches, Palm Springs, Yosemite National Park, etc. Disregarding these, there are still various legends and myths within California we have yet to discover.
The Myth of the Purple Sand: Pfeiffer Beach
Considered one of the most beautiful beaches within Big Sur California, Pfeiffer Beach is also considered one of the difficult beaches to find. Pfeiffer Beach is the only beach in the whole entire world that is composed of purple sand. Many observers describe the sand on this beach as tangible "fairy dust." Along with its purple sand, Pfeiffer Beach is also well known for the alluring massive rock which centers itself on the shore. Overtime the ocean has eroded this rock enough to have a human sized hole right through the middle.
The Land of Seven Tea Cups: Canyoneering, California
Seven Teacups Waterfall is located in the Sierra Nevada Mountain range. This is a popular location for canyoning. It has seven spectacular pools of water which lead into each other through waterfalls. From above these pools are surrounding a canyon in a circle which makes the waterfalls appear as a beautiful ring around the canyon. The waterfalls end at the Kern River.
McArthur-Burney Falls
McArthur-Burney Falls Memorial State Park is located six miles north of Burney California and is considered the second oldest park in California's Park system. The magnificent falls pictured above, are considered to be the park's main attraction, given that the 129 foot falls are a spectacular view provided by our one and only mother nature. The Burney Falls were discovered by pioneer settlers in the 1800s and were preserved by ancestors, who bought the land  in order to protect it from development. It was later given as a gift to the state in the 1920s. A short hike from the parking lot to the Burney Falls will allow for an entirely new experience that many may never get to accomplish.
Zabriskie Point: Death Valley
Zabriskie Point is located in Death Valley National Park in California. It is widely known for its eroded landscape and the way the colors pop with the rising and lowering of the sun as seen in the picture above. These flat salt plains are made up of sediments from Lake Manly, which dried up about 10,500 years ago, long before Death Valley earned its name. It was named after Christian Brevoort Zabriskie who was a general manager and vice president of the Pacific Coast Borax Company. The company was known for sending twenty mule teams to the valley in order to transport borax from its mining location. Either way, in broad daylight or sunset, the eroded landscape will always leave an impression on whoever decides to visit Death Valley and take in its rich history.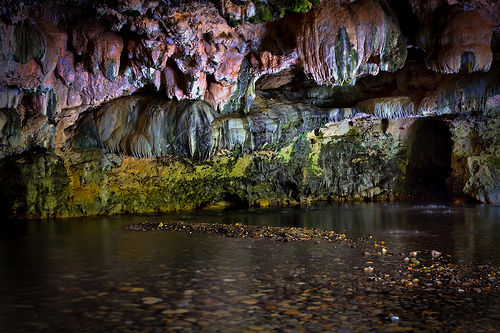 Natural Bridges
Also known as a "karst," the Natural Bridges were formed when the serene waters of Coyote Creek eroded through the bedrock of the cave and created this Aladdin-caliber Cave of Wonders. It's visually captivating scenery has been an attraction to many in the Calaveras region. Basically if you're going to California Gold Country, you'll want to be going here too.