By Katelyn Merrell and Karli Stichter
With graduation around the corner, Tustin High School kicked off their annual end of the year events with the senior class traveling to Medieval Times for Senior Munch. This fun activity was a time for seniors to make memories with their friends, laugh, unwind from all the stress of school, and watch dashing knights duel it out in the arena, while feasting on royal rations.
As the event came to a close, the senior class showed their Tiller spirit with senior Nick Jacobson, who is famous for hosting the assemblies, leading a classic, "T what?" cheer, followed by the whole senior class responding, with a boom, "T-Town!" This demonstration of school spirit served as a unifying moment for the senior class and will hopefully be a catalyst for their energy and school spirit for the rest of the year.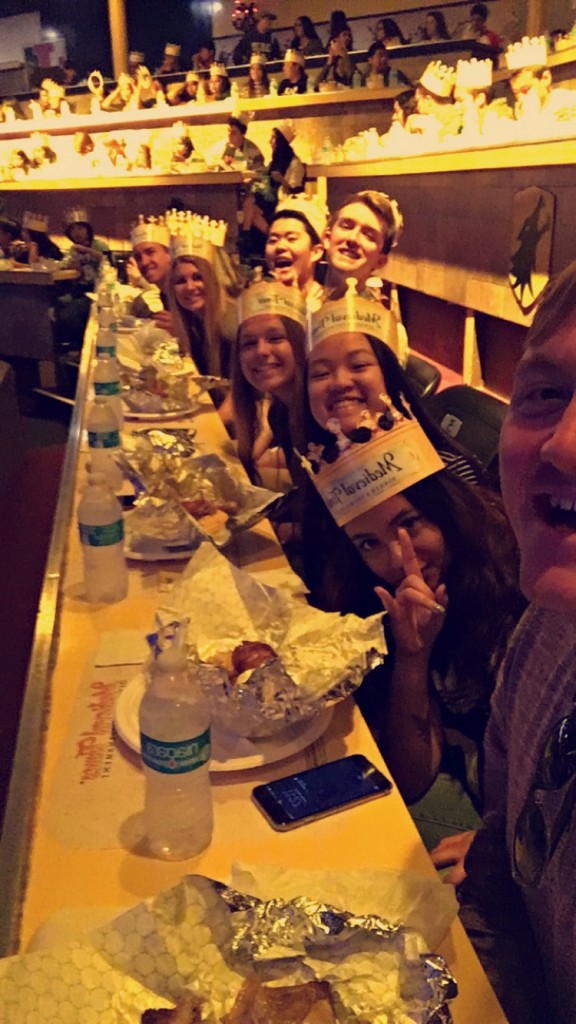 Upcoming Senior Events:
As all you seniors already know, there are many events coming up within these last 2 months of school. Most of you received a letter in the mail with a list of all the events and their prices. Here we provided a list of the events summed up:
Event Date/ Event/ Cost/ Payment Dates:
Wednesday, June 1 Senior Scholarships Awards (No cost, By Invitation Only)
Thursday, June 2 Awards of Excellence (No cost, By Invitation Only)
Saturday, June 4 Prom –Nixon Library (cost per person) $75 w/ ASB $85 w/o ASB April 18-May 9 $95-all tickets May 10-June 2 $100 each At the door.
Tuesday, Wednesday, Thursday, June 7-9 Senior Finals-All Seniors (No cost)
Thursday, June 9 Grad Nite at Six Flags Magic Mtn. $80. April $ 90. May $100. June 1– June 7 $110. At the bus door, with permission slip, and if there's room on the bus. (details online)
Saturday, June 11 Senior Reflections-All Seniors (No Cost)
Monday, June 13 Hello-Goodbye Assembly (report to Old Gym at 11:00am)
Wednesday, June 15 Graduation Practice-Northrup Stadium Attendance is Mandatory! 7:45-10:00 am (be there on time)
Friday, June 17 Graduation-Northrup Stadium (Seniors who meet the requirements)
We encourage all seniors to participate in these fun events provided for you at the end of the year. It is a way to reward you for making it through these four years of high school and congratulate you in whatever path you take in the next years of your life. Remember, it is important to be on your best behavior so you can enjoy the events with your friends and have the best time possible. These are memories you will carry for the rest of your life, therefore, don't miss the opportunity!