by Gwynn Van Houten
When the trailer for 10 Cloverfield Lane was released on January 15, just two months before its premiere, it seemed strange that it was some of the first news we'd been given of a new Bad Robot film. It received scant promotion and marketing; until it was released, moviegoers and media alike were fairly in the dark about the nature of the movie. But after watching it, it's not hard to tell that that was exactly what they wanted.
Despite the similarity in name, and in fact being referred to as a "blood relative" by J.J. Abrams, 10 Cloverfield Lane is not a sequel to the 2008 movie Cloverfield and can be enjoyed independently. The two are also very different breeds — while the first is an action-filled monster movie, the newer release is best described as a psychological thriller.
The story begins when Michelle (Mary Elizabeth Winstead), our heroine, ditches her New Orleans home after a rough argument with her fiancé, Ben. Desperate phone calls to bring her back are futile, but in her distraction, Michelle's car is struck by an eighteen-wheeler on a rural highway. When she gains consciousness, she finds herself in a poorly-furnished, cell-like room, chained to a wall but hooked to an IV and fitted with a leg brace so she can recover from her injuries.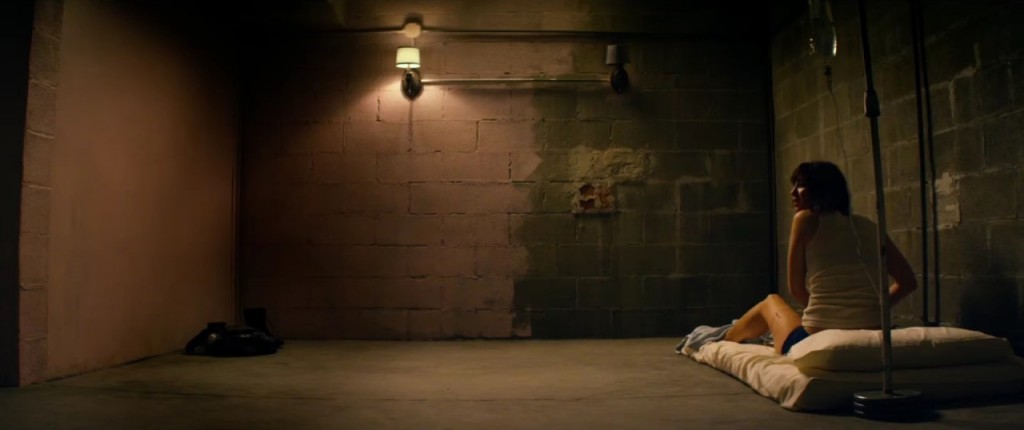 After some time Michelle is approached by Howard (John Goodman), a survivalist who reveals to Michelle that they are in a bunker he built under his farm, where they must remain for one or two years until the air, contaminated by fallout from some sort of attack, is cleared. Howard, quickly establishing himself as head of the establishment, insists to Michelle that she be grateful to him for saving her life.
There's one other resident, a dimwitted but likable guy named Emmett (John Gallagher, Jr.), and, once Michelle gets her bearings, the three of them try and make the most out of their time together. Luckily, the bunker is pretty stocked: not only do they have all the food, water, and tools they need, but there are plenty of books, magazines, movies, music, and board games to keep them occupied.
Yet Howard's strict regulations (hands to themselves, using the bathroom only with his permission) and extreme caution towards the outside air make their new home anything but cheerful, and references to an absent daughter of his, Megan, hint at something just a little bit off about the situation.

Above all else, though, Michelle is tempted by the thought of not knowing exactly what's outside the bunker, and so are we. Is the air really that bad? Are there other people out there? Was there ever really any danger?
The film relies on its tense, claustrophobic atmosphere and steady unraveling of the plot to keep the audience at the edge of their seats, and the mystery of what lies beyond that cellar door keeps them guessing till the end.
Due to its slow pacing, and for certain — how shall I say? — things that happen, it's not the perfect film for everyone, but there are also more than enough reasons to give it a shot. Its small scope and minimal cast allow room for good characterization. Michelle, in particular, is a charming character, and her quick-thinking and resourceful nature drives the story forward. Howard's ambiguous intentions tie in nicely with the mysterious events underlying the plot. The writing, in general, is excellently composed, and I feel myself wanting to see it again to catch all the little details that weren't so obvious the first time around.
If you're in need of movies that are dark, unsuperficial, and overflowing with suspense, strap in and take a drive to 10 Cloverfield Lane.