By Katelyn Merrell
Despite the convenience of a Starbucks Coffee being on almost every corner, there are tastier, trendier, and more quality coffee shops in the Tustin area. Simply take a trip down Newport Blvd. and experience three specialty coffee shops serving up decadent drinks, tasty treats, and flavorful food.
Kean Coffee is home to specialty coffee drinks and teas. The atmosphere of the coffee house is comforting, artsy, and relaxed. Voted best coffee house in Orange County by the Orange County Register in 2009, 2010, 2011, 2012, 2013, and 2014, Kean Coffee specializes in coffees, espressos, mochas, and teas. Their lattes, brewed with quality coffee from all over the world, are smooth, decadent, and come with the always fun "latte art." One of my favorites is the Café Napoli, a latte with a hint of hazelnut. Specializing in their decadent chocolate drinks, Kean's mocha's are "to die for," served with whipped cream and chocolate shavings on top. They also have delicious baked goods made fresh each day, that go wonderfully with a yummy coffee or tea. Kean Coffee is a perfect place for a coffee date, for a place to meet up with a couple friends, or just to grab a guaranteed quality drink.
Lost Bean Organic Coffee and Tea
Located on Newport Blvd, the Lost Bean Organic Coffee and Tea is home to delicious coffees, teas, specialty drinks, baked goods, breakfast, lunch, and great company. Serving up a diverse plethora of drinks ranging from a Horchata Latte to a Zebra Mocha (half traditional mocha and half white or dark chocolate), the Lost Bean brings creativity to the coffee world. For tea lovers, the Panda Pear is a specialty tea drink with soy milk, green tea or black tea.
Along with their specialty drinks, the Lost Bean serves up breakfast, lunch, and snacks. For breakfast they offer delicious omelets, breakfast burritos, oatmeal, fluffy quiches, and baked goods. Some favorites are the Mediterranean Omelet and breakfast burritos with avocado, eggs, cheese, bacon, and potatoes. For the afternoon munchies, there's the grilled chicken and roasted asparagus salad, along with other specialty salads, soups, and sandwiches.
The Lost Bean's relaxing and open atmosphere provides the perfect environment for people to come in and do homework or spend time with friends. Also, on Monday night's, the Lost Bean host's an open mic night with a variety of local talents who flood in to perform. The performances range from singing to poetry to stand up comedy. The event is a fun time to meet up with friends and enjoy some wonderful coffee or tea and entertainment.
As you continue to drive up Newport Blvd, past Kean, past the Lost Bean, and past Foothill High School, and up the hill in The Ranch Market, is the hidden gem Tru Bru Organic Coffee. This coffee house is the perfect place to come with a group of friends to study for a math test or grab a bite to eat and a coffee before school on a late start. This coffee house's atmosphere is exceptionally welcoming and open, accompanied by a trendy vibe and vintage décor. For chai tea lovers, Tru Bru serves up an amazing chai latte; my favorite being the almond milk chai. They also make delicious café lattes and white chocolate mochas for coffee lovers alike, each made with hand crafted "coffee art."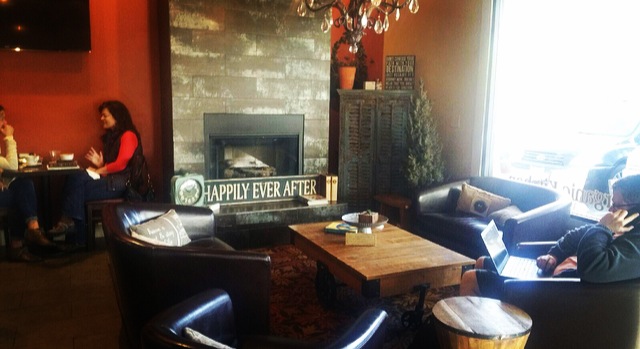 Along with their specialty drinks are their breakfast and lunch items. For breakfast they offer omelets, breakfast burritos, breakfast sandwiches, and oatmeal. The breakfast sandwiches can be served with your choice of bread or a bagel. For sweet lovers, Tru Bru also serves rich and decadent pastries made fresh each day. For lunch a favorite is their Caprese, tuna melt, and their soup of the day.
These coffee houses and cafes each offer a different atmosphere and unique drinks, but which ever ones you chose to visit you won't be disappointed.