by Nayeli Medina and Brisa Velazquez
Cenote, Cancun is a large open water pool that requires stairs in order to access its beautifully blue water. Cenote translates to "abysmal and deep" according to the Mayan hieroglyphic dictionary. The Yucatan was covered in ocean water until the last Ice Age, causing the sea levels to drop. Eventually, rainfall drained underground, creating grand systems of limestone underground caves and tunnels that have created spectacular pools, such as this one. These cenotes vary in size from ponds to lagoons. Some caves have amazingly interesting views or are considered important archaeological sites that were sacred to the Mayans. A couple are available for exploration such as snorkeling and diving in underground waterways.
Lake Atitlan is located in Central America, in Guatemala. It is 12 miles long and is claimed to be the deepest lake in Central America. The lake is home to various indigenous people and 3 grand volcanoes surrounding its dark blue waters that can be explored by small boats. There are 7 main villages surrounding the area, one of the largest being Panajachel. Many of the lakes indigenous people are still in touch with their traditions and cultures and the majority still wear their traditional clothing and are known for their crafted materials. The villages are full of vibrant colors and traditional souvenirs, all mostly hand made by the lake's inhabitants for tourists who are willing to embrace the Guatemalan culture and beauty.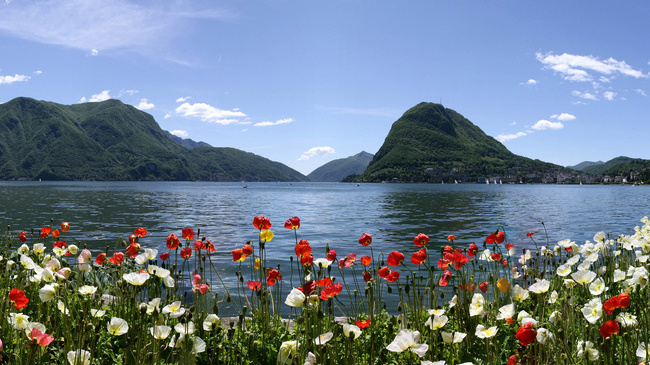 The canton of Ticino borders Italy and is the only region where Italian is the official language and represents the bulk of the Italian-speaking area of Switzerland. Ticino has rather favorable weather, which is evident by its palm trees and Mediterranean structures. It is famously known for its location and cities with Italian traditions, such as gelato, pasta, architecture, and so much more. Grottos are incredibly popular and the nightlife in Ascona is spectacular. Lake Maggiore is breathtaking, especially seen from a mountain which includes an astonishing view of Italy in the distance. Ticino is practically Italy, just under Switzerland democracy and practices.
Oia is known for its complex of white-washed, blue domed churches and charming, traditional Cycladic houses and restaurants. Oia is a scenic village within the Cyclades which was built on the steep slope of a caldera at an elevation of about 490 feet. Its location provides excellent views of the sunset. In Oia, the climate is generally temperate and mild. Winter tends to be the wet season and summers have a tendency to be hot and dry. Boat tours and underwater sports such as snorkeling and scuba diving are available .
Grotta Della Poesia, translated to "cave of poetry", is located in Roca Vecchia, Italy. This local secret is now one of Italy's must visit tourist attraction. This limestone pool is a wonder of Italy not to be missed. The cave follows a circular pattern with two entries. The cave was formed by a roof collapse of an underground cavern. The natural swimming hole also features hundreds of Messapic, Greek, and Latin inscriptions. Its name come from the medieval Greek word 'posia' meaning a place where it is possible to drink fresh water due to the presence of a spring.