by Karley Bailey
Eighteen is the horrifying number which signifies the closure of adolescence. It is the end of being a child. No more of those moments where it is socially acceptable to be irresponsible and immature. For Manny Lira, the dismaying responsibilities that adulthood brings already confronted him long before he was eighteen. Eighteen is an age which authentically embodies who Manny is; an age that has been defining him for the past two years, the age of maturity.
Manny commenced his journey into adulthood at merely sixteen. Living with a single mother with low income, he knew he had to take action, and do something to help out his mom. He worked quickly to find a job and was hired at Old Navy. Within his first three days, the managers saw his potential and decided to promote him far before his time. With this, Manny started working 40 hour weeks to support his family. He began putting every single paycheck into helping his mother pay bills. His previously conceived mentality collapsed and his work transformed him into a true, hardworking man. Exuding confidence and determination, Manny gradually achieved his dream of creating a name for the Lira household.
Along with his persevering diligence in his work community, Manny has a burning ambition that drives him to work determinedly in every aspect of his life. This stems from the facts that his mom never enrolled into high school, and that his dad left his home while he was young. "Rather than being vengeful, I became optimistic," Manny exclaims. For the past four years, Manny has taken four years of S.T.E.M, a well-renowned engineering program at Tustin High, as well as participating in four years of Cross Country. Disregarding how busy he always is, his grades are stellar, being in the top 12% of his class.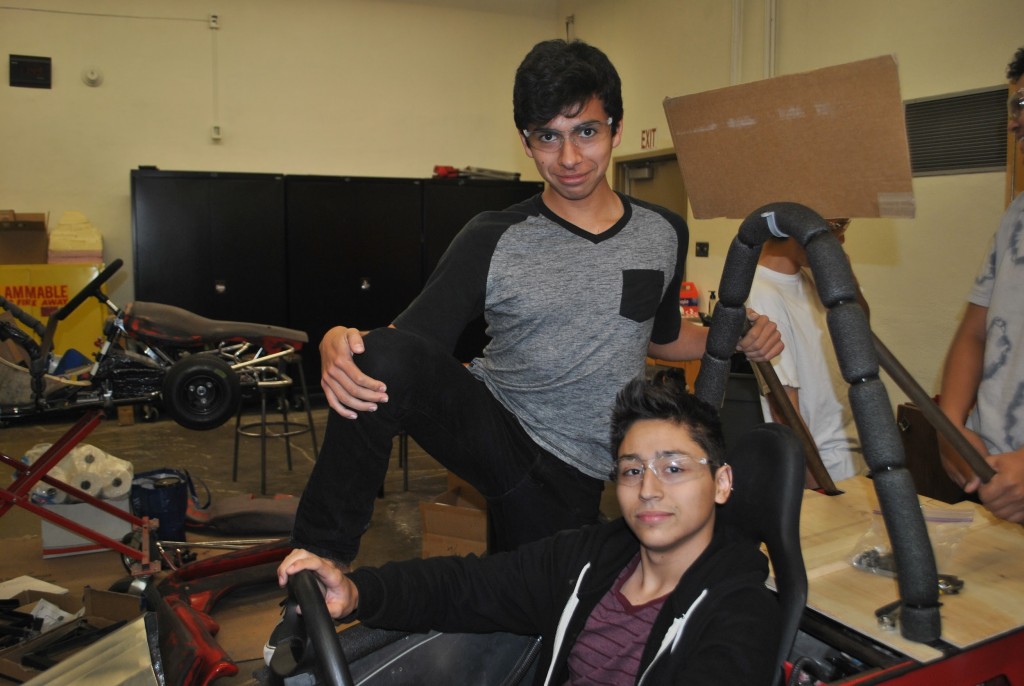 Manny Lira and Danny Gonzales showing off their model car in STEM.
Realizing he was homosexual had a huge impact on not only his social life, but his inner self. "I think that before I came out, I was restricted of my capability. I was not allowed to be myself; in a sense, I was restricted. I had to pretend to be someone I wasn't at all; but I guess after I came out in sophomore year, and seeing how many people really did accept me, that is when I reached my full potential." Ever since his good experience coming out, Manny transitioned from a troubled teen filled with angst, into a responsible hard working adult. He finally became the person he always was inside.
Eighteen is the age that Manny turned on January 20th. He is legally an adult. According to many middle-aged people, it is the strenuous, pitiful downfall of life. For Manny, it means gaining the respect he finally deserves from his fellow peers. For having the same responsibilities of an adult for such a long duration of time, and finally being recognized for it. No longer a minor, he finally retrieves the long-awaited standing ovation he has been waiting for his whole life.
Manny with one of his closest BFFs, Nayeli Medina.