As always Tustin High ASB fired up our spirits for Homecoming with Spirit Week. This year, homecoming spirit week fell on the same week as Halloween. So you would think it'd be mandatory to make it Halloween themed. The students demanded and as always ASB provided.  Tustin kicked off spirit week with Pajama Day on Monday, Trick-or-Treat day on Tuesday (which required students to wear black and orange), Workout Wednesday, and Zombie Day Thursday, inspired by Halloween which will be celebrated on Saturday, two days later. ASB used Zombie Day to set the mood for Tustin High's  Halloween-Homecoming Assembly. The assembly featured spooky classics such as "Thriller" by Michael Jackson and "Monster Mash." Starting the week with full-on Halloween spirit, ASB is finishing it off with a bang on October 30th with a "Tiller Thriller" Homecoming. Students ended the week with zombie costumes and a ghostly peek into Halloween. These were some of the most creative costumes spotted on Tustin High's campus.

 
Have you ever seen a cuter zombie than Stephanie Gramajo?
Ahmed Musa, Sacheen Premaratne, and Arsal Bokhari are literal lady killers doubling as ninja turtles who plan to slay at Homecoming.
Jazmine, the Freddy – Cool Girl.
Smells like Hallow-Teen Spirit!
The zombie squad, Anaya Smith, Yarith Vega, and Andrea Palma are about ready to eat your brains out!
Tiller student during the day, lovely skeleton during the night, Evelin Rodriguez.
Ashley Saenz as Donald Trump-et.
Lesly Romero, Areeba Amin, and Kristina Ching give the death stare to their teachers for giving them homework over Halloween weekend.
BFFS Kassandra Chavez and Sintia Avonce looked fabulously ghoulish.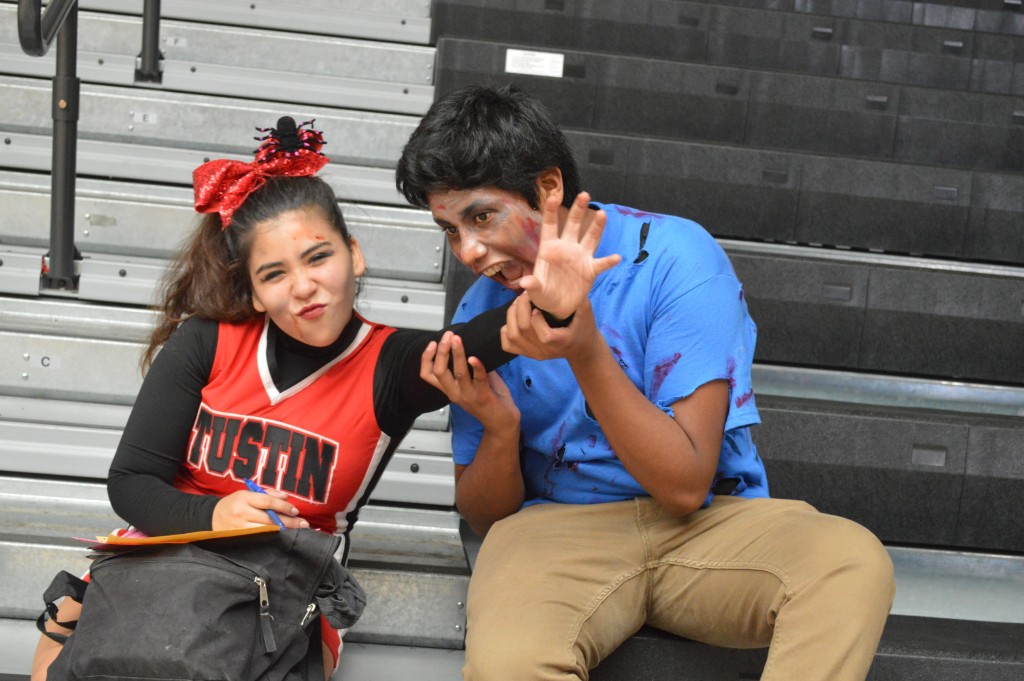 What does zombie Omar do when he's hungry? Munch on Karen!
Ronald Reagan has risen from the dead and taken possession of Mr. Ellis' U.S. history class for the day.