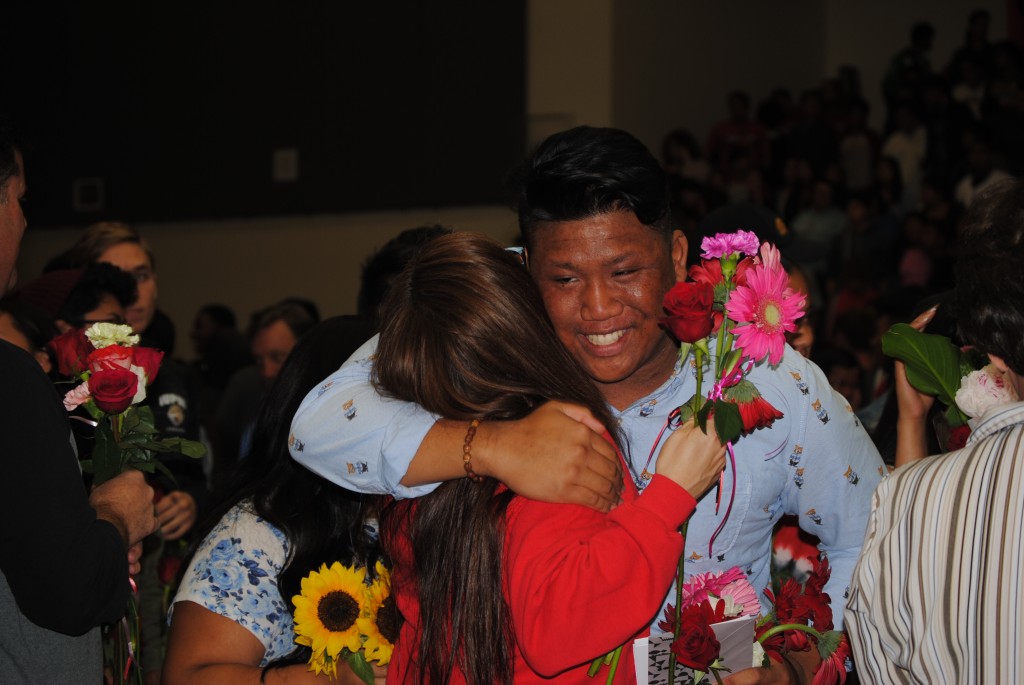 By Karley Bailey
Emotions ran high Thursday, as they always do this time of year. It was the annual Hello Goodbye Assembly, a Tustin High tradition for decades. This is where seniors not only say goodbye to their home for four years, but to their youth.
Seniors said goodbye to their teachers by establishing their gratification with beautiful flowers, plants, and heart felt cards. Simultaneously, other seniors embraced future seniors and underclassmen, who are not biologically family, but who have become family throughout the years.  It was a moment of vulnerability, of tranquil affection, something some of us are too scared to show toward one another. This part of the hello goodbye assembly is the central idea of the event. It gives the seniors a chance to display their love towards their teachers and their fellow peers who supported them throughout their journey.
This assembly truly illustrates how far the seniors have come. This moment marks the end. The end of seeing the same faces they've become so familiar with for more than half their lives. The end of seeing the same person who broke their heart  five days of the week. The end of going to school dances or going to football games. The end of sleepovers and texts about their crush in third period.  It establishes a sorrowful ending, but an exciting  beginning to their new adulthood and embarks them on their new journey.
This assembly is a special event for everyone who plays a role in Tustin High's community.  Ms. Matos stated that the assembly was, "touching" and she "cried like a baby," squelching any rumors that she intends to cancel future hello-goodbye assemblies.
Congratulations and best wishes to the Tustin High class of 2015!