-Dylan Allen
Larissa Connors is, undoubtedly, a consummate professional. A full time Algebra and Calculus teacher at Tustin High and a full time professional cyclist for Sho-Air's RideBiker Alliance, her work week never truly ends.
There is of course, the myth perpetuated by non-teachers that "teaching isn't even a full time job, they get summers off", and another myth, similarly perpetuated by parents, "armchair quarterbacks", and the public at large that, "being an athlete isn't a real job", yet surviving the endless loads of lesson plans, constantly changing curriculum, and bureaucratic betrayals that accompany being a school teacher often total to over 40 hours a week.
Factor in the lifestyle of a professional cyclist: social sacrifices (goodbye partying on the weekend), the physical requirements of professional racing, the mental fortitude required to survive long blocks of training and racing (up to 10 months a year), and the near constant travel to and from races, and the sum of these two jobs comes out to 168 hour work weeks.
In other words, Larissa Connors is never not working.
Whether it be training, teaching, trowelling (she likes a good gardening session), travelling, or treating herself, her life is devoted to her work.
This busy life isn't anything new to her either. While attending UC Davis (where she earned her B.A. in Math, and later, her teaching credential), she balanced being a Division 1 athlete, broke college student, and a math major. She called her situation "a pretty tough time," but it seems that she downplays just how difficult it was. Proudly, she tells a story of being a "freegan", eating "dumpster bagels" from Davis' local bagel shop, because she couldn't afford to eat enough otherwise. A holiday tradition, repeated every year at Halloween, is the story of her Chipotle exploits: taking advantage of the "free burrito if you come in a costume" promotions, going through the line four times, receiving four burritos, and then freezing them, supplying her with a weeks' worth of food.
With her beloved dumpster bagels and free burritos lowering her food costs, she was then closer to affording the large monetary costs associated with bicycle racing (and college), and she was able to focus more on training.
Her dedication and training paid off her junior year at UC Davis, at the 2009 Collegiate National Championships in Boulder, Colorado. She entered the road race and the team time trial. She took thirteenth in the road race, seconds behind women much older and stronger than her, most notably, professionals Jacquelyn Crowell and the late Carla Swart, who both later raced in the World Tour, the highest level of cycling.
Just two days later, aboard her custom Wolfram X-Prime time trial bike (built by her now-husband), she led the UC Davis team to the Division 1 National Championship for the Team Time Trial, defeating cycling "powerhouse" schools Lees-McRae (alma mater of Carla Swart), and Fort Lewis, and earned the honour of wearing the bands of the Stars and Stripes her senior year.
Shortly after college, with a BA in Mathematics and a teaching credential in hand, she moved south and began working at Santa Ana High School, and, on the weekends, shifted her focus from road racing to cross country mountain biking. Her early races were marked by major successes in minor races (compared to her current races), however, those early years were the basis for her current success.
2013, her first year at Tustin High, she signed on with her first pro team: Team LCB. Simultaneously, she became a certified NICA coach, and coached both the Tustin High School Mountain Bike and Track and Field teams. After the season ended, she raced around the country in the summer, which in turn exposed her to the professional culture: Eat, race, sleep. Her husband, Brendan (who is an engineer for Felt), acted as her mechanic and soigneur. After a successful year, including the win at her hometown Annadel XC, she signed a contract with LCB's parent: Marin Factory Team.
With Marin, Larissa had a breakout year. She switched coaches early in the season, and within a few weeks, she earned her biggest ever result: 5th at the Sea Otter Classic, behind Marianne Vos and Katerina Nash, two of cycling's best riders of all time.
She continued the streak of high placings through the year, culminating in the late summer, where she raced at the Windham World Cup (the highest level of mountain bike racing), and finished in 30th place, after starting in 54th. She quickly followed her World Cup placing with a repeat win at the Annadel XC, casually coming in 14 minutes up on her nearest rival.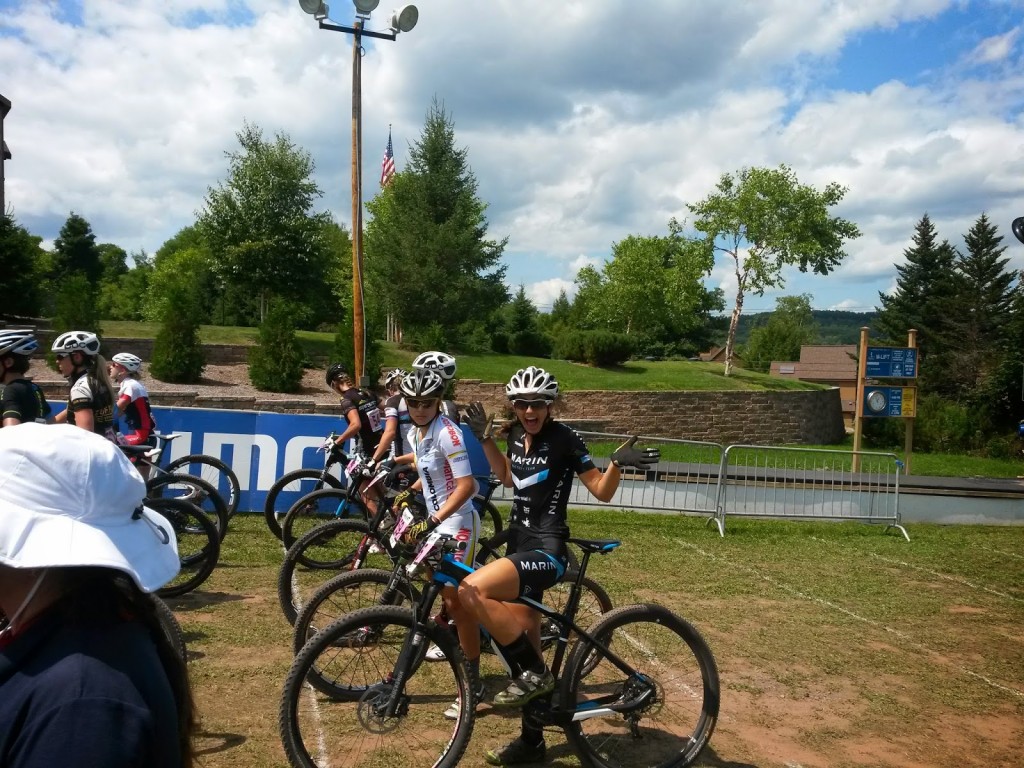 The season over, Larissa took a short break, rock climbing and gardening with her "hubby." Soon after, she learned that the Marin Factory Team was folding, the company instead focussing on its Enduro squad. Suddenly, she was left without sponsors, and she says there "were a lot of tears, and talk of quitting, and general negative behavior." But she chose to continue chasing her dream and began a "terrifying" search to find support before her season began.
Support, found a month later, came in the form of the RideBiker Alliance, the dream child of millionaire CEO and cyclist Scott Tedro. Its flagship, based in Orange's Sho-Air Cyclery, is also along her commute home everyday. In December, months after traditional signings, the Connors and Sho-Air relationship began.
Connors began her 2015 season strongly: She took her first win during a training block at the San Bruno Hill Climb in Brisbane on January 1. Upon returning to Orange County (and teaching), she quickly found herself working over 12 hour days, often "waking up before the sun… and coming home after it set." But the long days did not stop her, rather, she continued a large block of her training through the month, never stopping, not even to celebrate her 29th birthday on January 22. Before she knew it, she was rolling to the start line of the Boulevard Road Race in San Diego.
She calls herself "99 percent mountain biker," but Boulevard has proven a good place to test her fitness coming into her proper "racing season." She described this year as "obscenely confusing," occurring just after a rainstorm, and her "motivation to race road bikes," in her traditional post-race nachos. She spent most of the race chasing attacks and attacking, but rested halfway through the 80 mile, 7500' onslaught to "get caught picking [her] nose" by another rider's attack. Chasing down that attack resulted in an extended period of time on the front of the race, and after receiving no help from her competitors, she attacked on the final lap, quickly distancing the field before being caught by 2 other riders. They rode together into the last 500 meters before they contested the uphill sprint, where she dispatched the others to take her second win of the year.
She continued her winning ways into March, winning the Harding TT in the Santa Ana Mountains before contesting the first Kenda Cup West, in Temecula. The Kenda Cup took place in a heavy rainstorm, turning the course into a muddy, sludge filled affair that caused hundreds of thrown chains. All but Connors'. Her "dumb luck" let her ride away from the field and take the win.
The four win streak was where it ended, but her following results were even more impressive. In US Cup races, Connors finished 4th in the C1 race behind former Canadian Champ  Emily Batty, World Champion Catherine Prendel, and Olympian Georgia Gould. A week later, in Fontana, she finished 9th in the HC race, behind an even more competitive field. US Cup race number 3 was April 11, back in Bonelli (but still retaining the HC rating), where she finished 7th in the race, just a few seconds back on 6th place.
It was during these US Cup races that she hit the spotlight of the national mountain bike scene, quickly becoming known as "the full time teacher," and continued her improper way of never wearing a podium kit.
But she is not solely defined by her career (either on or off the bike). Larissa Connors possesses a rare quality: the ability to turn terrible, unfavourable conditions to her will, or, at the very least, survive (and thrive) in them. This has been proven multiple times: at UC Davis, at Tustin High, at the end of her last season, in the triple digit temperatures in Bonelli… She is exemplary for her devotion to her job, her students, her family, and her cycling.
At the time of writing, Larissa Connors was en route to the Sea Otter Classic for the Women's XC event (UCI C3), where she looked to improve upon her 5th place finish the year before (and brought a podium kit… unlike last year).
You can follow Larissa on Twitter, Instagram, and read her blog, Larissa Bikes.