By: Julia Klotz
Controversy sparked this weekend regarding the claimed "vegan" makeup brand Lime Crime. CEO and founder Doe Deere, real name Xenia Vorotova, has been accused of repackaging and selling used or branded makeup as well as auctioning her customers' credit card information to scammers. This problematic behavior had managed to be concealed for a while until upset customers and makeup artists confronted Doe through social media this past Monday.
Lime Crime has been a popular makeup brand among the social media community for years, with over 1.5 million followers on their now private Instagram account. YouTube beauty "gurus" praised Lime Crime's liquid lipsticks and eyeshadow palettes, and many times promoted the brand on their channel. With the promotion of Lime Crime products, many followers of these "gurus" purchased the recommended products resulting in stolen credit card information or faulty products. In several cases, customers received opened or unacceptable products. As seen in the photo below, this customer had purchased one of Lime Crime's Velvetines; the bottom example purchased more recently than the top. The opacity of the top swatch significantly differs from the bottom's shiny, more transparent appearance even after having applied four coats.
A copious amount of well known makeup artists on YouTube, Instagram, and Twitter, took to their social media to publicly respond to this act of fraud. In a majority of their statements, consumers declared that they will no longer be buying from Lime Crime nor promoting the brand. Many apologized if they, in any way, had influenced other purchases from Lime Crime; they would have put other consumers in jeopardy of losing credit card information.  In most cases people did, including some of the artists themselves, like beauty Youtuber Carli Bybel. "My credit card was hacked and had multiple charges. Had to replace it," tweeted Bybel.
In addition to selling unusable products to her customers, Doe Deere managed to take mass produced makeup repackaged with a Lime Crime label, and charged triple the price, manipulating buyers into thinking what they were spending their money on was authentic. In a now deleted post from Doe commenting back to a dissatisfied customer, she said, "…it was YOUR fault that you idiots were stupid enough to spend $16 for a gram of product," demonstrating an unprofessional response to handling the problem she created. Letters were sent to customers stating whether or not credit card information was stolen; most customers discovered their stolen identity through their banks, and by the unusual purchases found on bank statements.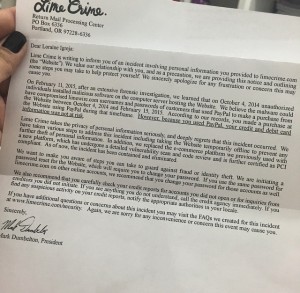 This unnecessary conduct from Doe Deere and Lime Crime has, overall, upset many loyal customers and has pushed them to starting a petition and a hashtag notifying everyone of Doe's drastic behavior. Blogs have begun popping up sharing with everyone dupes for Lime Crime products in an effort to help dissatisfied customers. Although it may be difficult to reimburse clients for all the money that may have been stolen from them, there is no stopping the rapid downfall of Lime Crime forever.
Some alternatives to Lime Crime's Velvetines:  Jeffree Star Velour Liquid Lipsticks ($18) or Anastasia Beverly Hills Liquid Lipsticks ($20)