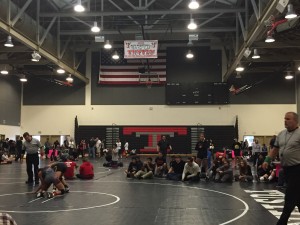 By: Julie Moreno
Being dedicated to something can be tough, but can also pay off. Tustin High's seniors Jasmine Cordero and Valeria Moreno are the first girls in school history to wrestle for four years. For their first two years in wrestling they practiced and competed on the boys wrestling team. This gave them an advantage when it came down to wrestling with girls. It becomes easier to wrestle girls since wrestling with boys can be tougher.
Valeria Moreno and Jasmine Cordero
Nobody wrestles the same way. Wrestling with both genders has payed off to both Cordero and Moreno. They encourage the rest of the girls in the team to challenge themselves with the boys. Their advice seems to have worked. On the seventh of February, Tustin High hosted the California Interscholastic Federation (CIF) Central Division regional qualifier where Tustin's girl wrestlers competed. This year's results were far more impressive than last year's. In last year's CIF competition Moreno placed 5th and Cordero placed 4th, both qualifying to go to Master's but only Cordero qualifying for State. Before the CIF tournament took place at Tustin, Moreno had a record of 24-9, and was ranked fifth in the CIF Southern Section. Cordero had a record of 25-7 and was ranked second in the CIF Southern Section.  On that weekend Moreno and Cordero, along with the other girls, all made an amazing comeback. As a team, Tustin placed 5th out of 39 teams at CIF, with a score of 106 points. This is the highest placing in Tustin's wrestling history. The whole team made it possible but only five Lady Tillers qualified to Master's:
-106 lbs. Mariela Madrigal (Junior) 8th place
-116 lbs. Jacqueline Lopez (Freshman) 7th place
-101 lbs. Paloma Lopez (Junior) 4th place
-111 lbs. Valeria Moreno (Senior) 1st place
-141 lbs. Jasmine Cordero (Senior) 1st place
On Friday, February 13, the first day of the Master's tournament took place at Eleanor Roosevelt High School. It truly was an unfortunate day for most of the Lady Tillers. Mariela Madrigal, Jacqueline Lopez, Paloma Lopez, and Valeria Moreno didn't have the opportunity to compete on the second day of the tournament. They didn't compete in the semi finals but they did make history for Tustin by just staying on the team itself and always wrestling their hardest. Jasmine Cordero continued to advance when she competed for the 2015 CIF State. The story of Jasmine's State journey is forthcoming.