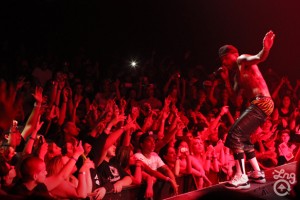 By Jocelyn You, Local Trends Editor
Located in a small business center in Santa Ana, of our very own Orange County, is a venue used for adrenaline junkies and music connoisseurs. The venue hosts everyone from underground bands made in family living rooms to big name rappers such as YG and Schoolboy Q. The setting is intimate, as there are two small rooms for performances-one with a pit, and the other with just a stage. The place is hidden due to its washed-out looking sign advertising upcoming shows and its "nothing special" grey building that blends in with its surrounding corporate companies. However, the experiences gained from going to shows at The Observatory is nothing less than spectacular.
Shows at The Observatory are often on weekdays, or there are several opening acts before the main performer. This brings down ticket prices. For example, seeing YG at a concert like Power 106's "Cali Christmas" can cost $100 or more depending on seating. At The Observatory, general admission can go from $5 to $50 (with an exception for VIP packages, which are always more expensive). Whether the tickets are dirt cheap or a day's worth of work, anyone who attends the shows has an opportunity to either be up close and personal with the performer or in the background swaying to the music.
The venue provides a personal connection with the concert-goer to the performer. For example, Schoolboy Q used to attend Lupe Fiasco concerts at The Observatory before he was even known. Now he has sold out the venue a few a times. Anyone who attends a show at the venue seems to fall in love with the music and gets into a few hours of pure bliss. Something about being smushed in a crowd full of sweaty, heavy-breathing strangers and hearing the music bumping from all around gives off a vibe that is sure to bre remembered forever.
People from all over come to visit The Observatory to see their favorite artists, but its home is Orange County. Teenagers, adults, and even children line up hours before the doors open to see the show. In a sense, it brings people together, despite whatever differences people may have.