By: Abigail Pidazo
With Winter sports coming to a close in the league season, varsity sports celebrates their seniors for their last time on the home court. Senior Night is a night where senior student athletes on varsity teams are recognized for their final year on the program at their last home game. Last week fifty-six seniors in the class of 2015 earned this recognition. Girls' cheer contributes six seniors to the count, Girls' basketball adds another seven, Boys' Basketball 13 players, Girls' and Boys' soccer eight each, and Girls' Water Polo completes the count with  14 seniors.
Girls' cheer throughout the past four years has proved to be some of the loudest and proudest Tillers on campus. The cheer team has loyally worn their uniforms for each home and away game. This year they have helped to amplify our student section "the Barn" during football and basketball season.
The Girls' basketball team has been continuously proving themselves throughout the past four years. Under new coaching, Coach Gocke has managed an improved record. They made it into semi-finals last year in the CIF play-offs and are looking to place again this year. On Friday night, the lady Tillers became league champions. Coach Gocke often refers to her determined lady Tillers as "#GockesDreamTeam."
The Boys' basketball team has proven to be one of the top teams in Orange County according to OC Varsity. They have a record of 23-2, losing only to San Clemente and notorious Mater Dei. In an earlier article, the boys mentioned one of their goals was to beat Foothill. On January 7, they accomplished that goal. On Tuesday night, they accomplished another goal: capturing the Empire League title. They stand undefeated in league and are in the chase for a CIF ring.
Girls' soccer has provided an incredible season of strength and determination. Two senior players, Allie Zwerling and Kelsey King, recently both signed commitment letters to play soccer in college. Although they overcame difficult obstacles, they hope to pull off a spot for CIF tonight.
Boys' soccer has proven themselves to be one of the top teams Tustin soccer history has ever had. They placed second in the Empire league on Tuesday beating Valencia (1-0).They also won a qualifying spot into CIF. This is the first time in five years that Tustin soccer has qualified, and the boys hope to deliver all they have onto the field.
Girls' Water Polo is comprised of dedicated players. The water polo ladies sacrificed their late-start mornings to practice for an unforgettable season. They earned the first-place title in the tournament 6TH Annual Roy Brown classic. This season the ladies almost went undefeated in league, except their one loss to Cypress. The ladies hope to have their dedication to pay off in CIF play-offs.
Seniors from left to right: Rachel Danahoo, Raquel De La O, Brooke Bacon, Sarai Rounds, and Thania Samayoa
 Brooke Bacon
Years on program: 4 / On Varsity: 3
Influence: "My mom."
Greatest accomplishment or most memorable moment on the team: "Probably making Captain this year."
Plans after High School: "Attend UC Irvine."
What will you miss most: "Probably all my friends on the cheer team."
Raquel De La O
Years on program: 4 / On Varsity: 3
Influence: "My middle school coach because she pursued me to become better and go through cheer as the years went on."
Greatest accomplishment or most memorable moment on the team: "Freshman year was a great year. I guess being on the team, because it was very limited. It was very hard and competitive. It was pretty tough, but very rewarding as well."
Plans after High School: "Well, I'm going to the air force, so I'm going to be there for five years. So I'll go travel the world but will eventually go to a University."
What will you miss most: "My friends, my past coaches and just the whole sport all together. It's been very fun cheering with them."
Rachel Donahoo
Years on program: 1 / On Varsity: 1
Influence: "Well, I've always wanted to be on cheer, but I'd probably say my friends who are on cheer."
Greatest accomplishment or most memorable moment on the team: "Making Varsity as a Senior and it being my first year."
Plans after High School: "I plan to attend BYU Idaho."
What will you miss most: "Probably my friends and being on cheer, because I love cheerleading. It's super fun!"
Nayloni Preciado
Years on program: 4 / Varsity: 2
Influence: "She already graduated, Kamia Anderson."
Greatest accomplishment or most memorable moment on the team: "Going to CIF with the basketball and football team."
Plans after High School: "I want to become a nurse and audition for the Dallas Cowboy's cheerleading."
What will you miss most: "Probably everything! Like the way everyone messes around and Friday night light's."
Sarai Rounds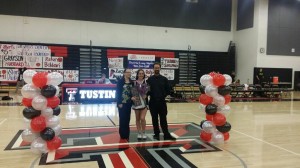 Years on program: 4 / On Varsity: 2
Influence: "My coach."
Greatest accomplishment or most memorable moment on the team: "My most memorable moment was when I got to fly at a home Varsity football game."
Plans after High School: "To go to college."
What will you miss most: "My friends."
Thania Samayoa
Years on program: 4 / On Varsity: 3
Influence: "Probably my mom, she's the one who influenced to be in this program in middle school. I didn't like it, but since middle school, I loved it!"
Greatest accomplishment or most memorable moment on the team: "Probably when we hit a very difficult stunt Freshman year, it was a heel stretch forward. And when we hit it I was so excited! It was the greatest moment of my life."
Plans after High School: "Go to college, study abroad, or travel the world."
What will you miss most: "Everything! What's not to love about cheer?"