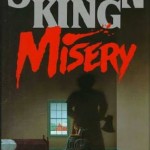 by Vanessa Cuellar
Stephen King's impeccable novel Misery gives readers a spine-chilling, hair-rising, blood curdling feeling of suspense and danger. King brings to life the horrific venture of what could happen when a famous novelist meets his number one fan.
Paul Sheldon, author of the famous romance series Misery, is overcome by wanderlust to drive to Los Angeles and see where fate takes him. It is a trip driven by adventure and ambition, but turns into Sheldon's worst nightmare. His aspiration of happiness soon leads him to a severe car accident that ends with him in the care of Annie Wilkes. Not only does Annie rescue Paul from the car accident, but she also happens to be his number one fan. A fan that is crazy about him. A fan that is willing to do anything to make him stay a bit longer. Anything.
King brings a nightmare to life keeping readers in suspense. This piece of work is by far the best of King's novels creating an eerie sense of paranoia. Annie Wilkes' presence is tangible along with the sense of emergency from Paul Sheldon as he struggles to survive. Compared to King's other works, this book has no guts pouring out or vampires trying to suck blood. It is very dramatic (and probably very unlikely to happen) but still entertaining. John Katzenbach from the New York Times states, "Its excitements are more subtle. And, as such, it is an intriguing work."
The feeling throughout this novel is one of suspense. How did Annie Wilkes come to be this way? How will Paul Sheldon escape? These are the few questions that I asked myself throughout the book and King answers these revelations in a surprisingly and appalling way. As you read you will find yourself engulfed in Sheldon's world of how he fights for his freedom…and his life.