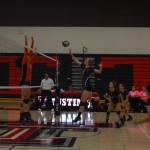 By Zachary Apperson and Vanessa Cuellar
Lady Tiller athletes continue to spread the word of breast cancer awareness by wearing pink. From pink socks to pink jerseys, Tillers show their care for women all across the world who suffer from this devastating atrocity. On Monday, October 20, the girls' volleyball team competed against Cypress at their "Dig Pink" game. This meant a great deal to the ladies not only because they were competing for themselves, but also for those who are fighting breast cancer.
After a hard battle against the Centurions, the Tillers came short by three points in their last set. Even with their unexpected loss, Tiller pride reigns within their hearts knowing that those who have died will be honored through their attempts. "All of the proceeds are going to breast cancer awareness and to find a cure," says libero player Sarah Villalobos. Villalobos speaks from personal experience when she discusses the death of her neighbor who finally had succumbed to breast cancer.
According to the National Breast Cancer Foundation, "breast cancer is the second  leading cause of death in women…" Many of these women are mothers, sisters, and grandmothers. For this reason we should support and spread breast cancer awareness, not only as athletes but, as caring individuals who together will help fight this horrible disease in search for a cure. The Breast Cancer Research Foundation's mission is set upon these principles and you can help make a difference by donating today at https://donations.bcrfcure.org/donate-now.