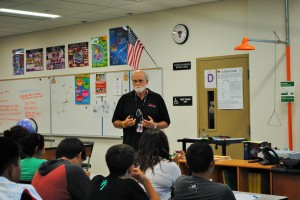 By Destiny Gomez and Cristobal Segura
Learning is a vital part of life. Every day is a new challenge for students, and the only people able to help conquer daily challenges at school are teachers. Teachers come and go, but one teacher stands above all, Mr. Easter; a Tustin High School biology teacher. Mr. Easter is a benevolent, inquisitive man of knowledge. His basic nature is not to only teach students, but to make sure his student's equilibrium is well balanced.  While he teaches he stops to make sure his students are actually on the same page with him, which is very helpful because at times students get sidetracked.
Where were you born?
I was born in Boise, Idaho, the great pacific North West, "potato state."
Did anything in your childhood influence you to become a teacher?
I had some really good teachers, and I'm sure they had an influence on me. I remember very well, some of them, even my 1st grade teacher, Mrs. Badgers. She spanked my hand with a ruler I remember her and I had one teacher when I was in 5th grade, that got me interested in science and specifically birds, she liked birds and I loved birds and I know that's where I got my interest in science, from birds. In high school it was the same thing, I still have teachers that are friends of mine, so yeah they definitely make a difference.
As high school came to an end, was your career path always directing you to be a teacher?
No, not at all, I had no intentions of a becoming a teacher, I originally was going to be a minister. Then I decided I was going to go pre-dental, I wanted to be a dentist; as I got into college I switched my major to biology, I decided I didn't want to go into dental, I didn't want to spend all day looking into somebody's mouth, I thought that'd be very monotonous. My intention was to teach college, but it didn't work out that way.
What college did you go to, to achieve your degrees?
I got my undergraduate degree back in 1978, I graduated from Boise State. I started out at Walla Walla College and then finished up in Boise State, which was my hometown school and then many years later I retired from business. I got my teaching credential through a National University, I actually had my teaching credential except for student teaching done at Boise State, but I never pursued that.
Do you feel your need to learn is as great as your need to teach?
I learn by teaching I mean in order to keep the classes fresh and keep current you have to read and learn, I read a lot, I do, this summer I read 6 books; 3 of them were novels and the other 3 were textbooks. The first textbook was on extinction and the other 2 were on parasites and bacteria. So yes you have to keep learning.
Now that you are a teacher do you feel like you can learn from your students?
You do, sometimes you learn things you really wish you didn't know, and other times they ask questions that you have to go and do some research to make sure you know what you're talking about. Kids especially, I mean I'm learning more about technology from my students, I'm descent with technology for an old dude, but kids grew up with technology, and I rely on students to help me when I need help.
Were there any obstacles preventing you from becoming teacher?
Yeah, when you go back to school to become a teacher, you either have to go at night and that's difficult when you have a full time job, or you have to quit your job and you have to have some money saved up, so absolutely. Obviously when you get older it's not as easy to learn, so there's; family commitment, work commitment-excreta.
Is there any advice you would give to a student who wants to become a teacher.
Pursue it. I've never been happier since I quit the business world, as I call the real world, and became an educator. You have to have a passion for it though, if you don't have a passion, it's just a job, and if it's just a job might as well go somewhere where you'll make more money. It takes a few years to figure out the discipline, because that's the biggest thing for new teachers is figuring out the discipline you have the knowledge, you have the pedagogy, but the bottom line is saying what you know and what you love with students getting them to be enthusiastic, some never do, some the light never comes on, but there is always a student or two that were struggling and you suddenly see a light come on in their head, they realize they need this and you've been of help to them, and it's all worth it, it's all worth it.
Mr. Easter is a great teacher. He spends his time helping students with what they need, giving them knowledge on how life on Earth works. He's a biology teacher, and I'm a former student of his. His unique ways of teaching get the job done. The way he explained Bio helped tremendously. Not only did he make it easy for us to understand, but he made the information so clear that the materials learned that day would remain in a student's mind for the rest of the day.
Easter also helped me feel accomplished. Whenever I received good grade on my tests he'd say "Good job; I'm really proud of you." And I'd be really excited because I would feel like I did something right. Easter also helped me because when I didn't pay attention in class he told me to, "Get myself together." When my grades slipped, he'd set me on track. Easter doesn't only care if a student passes classes or not, he also cares about a student's mental health.  Mr. Easter is emotionally intuitive about his students. He senses if anything is preventing students from learning. If he sees students struggling he personally takes time out of his busy schedule to create a plan to ensure learning is not disrupted. He will not hesitate to pick up a book to help students with personal or scholarly questions.  Mr. Easter emits an aura of warmth to all students, as a result I have tremendous respect for his pedagogy.
After my freshman year with Mr. Easter I learned an exceeding amount of information about Biology. He's the best teacher I had and he will be the high school teacher I will never forget.